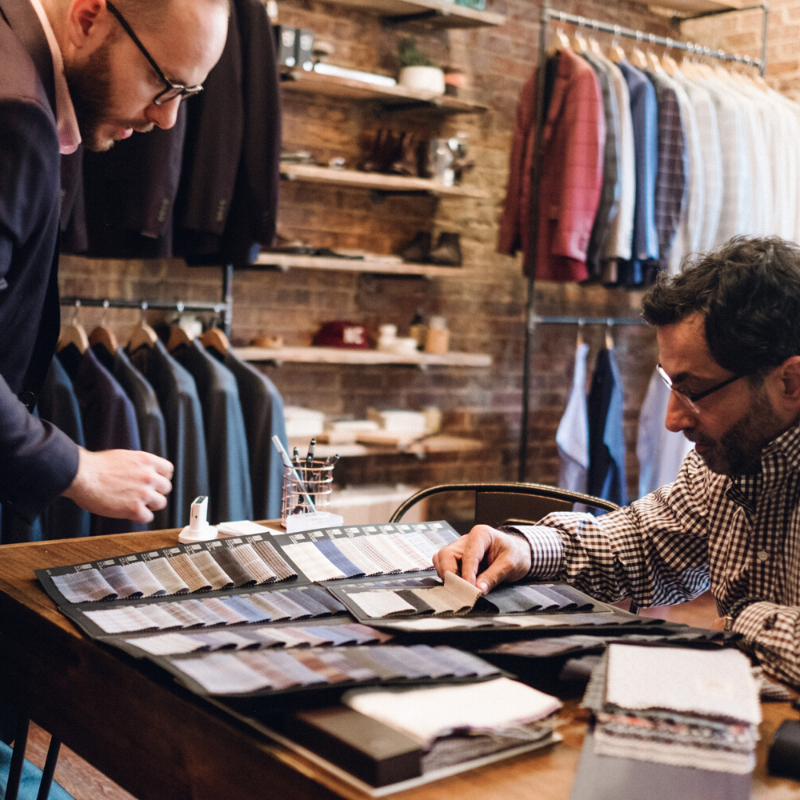 Shopping for someone else but not sure what to give them? Give them the gift of a custom experience with an OMJ Gift Card.
The Experience
We pride ourselves in meticulously helping you create a look that is unique and personal - and that all starts with the experience. Our showroom has been designed specifically for you to come in and relax while enjoying a glass (or three) of your favorite bourbon. At the same time, you get to pick out and design something unique and just for you!
 
The Process
Consultation
It starts with a consultation where we talk about your needs and goals. We are listening for what YOU are wanting so that we can help guide you both for this particular item, as well as helping you build out future needs if that is what you are looking for. 
Fabrics
We have thousands of fabric options to choose from. Don't feel overwhelmed though, we are here to guide you and make suggestions!
Details
As with our fabrics, the details you can pick for your garment are pretty much endless. Different color threading, custom liner of your favorite sports team, monogram and many other subtle design details are just some of the small things you can do to make your custom garment stand out. Again, no need to be overwhelmed, we are here to make sure you don't overdo it!

Measurements
In today's technology world there are some things that can never be replaced (regardless of claims about 3d body scanners etc...). Measuring is an art form with a very real variable that a machine can't duplicate...and that is fit preference. We have been doing this for 7+ years so can get you a fit that pretty much no one else can.


Fitting
Approximately 4-6 weeks after the all the measurements are in, the goods arrive, and it's time to gather once more for the fitting. If any adjustments are needed we take care of it to ensure your suit fits absolutely perfectly!
If you would like to order a gift certificate for a specific custom item or for a dollar amount not shown on our web store, please contact us at info@olemasonjar.com, and we'll be happy to help.
Once ordered we will be in touch on mailing out a physical gift card!